Calcium Chloride is an inorganic salt whose molecular formula is .It is a white salt that is very soluble in water. Calcium chloride generally exists in hydrated form, whose formula is:

General information about calcium chloride
Calcium chloride is found both synthetically and naturally in some mines. Calcium chloride was known in the early 15th century, but was not studied until the late 18th century.
Calcium chloride is classified in different ways. One of the categories is as follows:
First class or type S (Solid): Flake, pellet or granular
this type is available in this concentration 77, 90, 94% minimum.
Second class or type L (liquid): Water solutions
Concentration of this liquids is between 28-42.
Commercial solutions of calcium chloride is 38-42, Although maybe users need less concentration.
Most of the forms of calcium chloride in the market are in the form of flakes or pellets, and a small amount of them are in the form of mini plates or powder or briquettes. The economic grades of calcium chloride are listed in the table below.
The physical properties of aqueous forms of calcium chloride are as follows: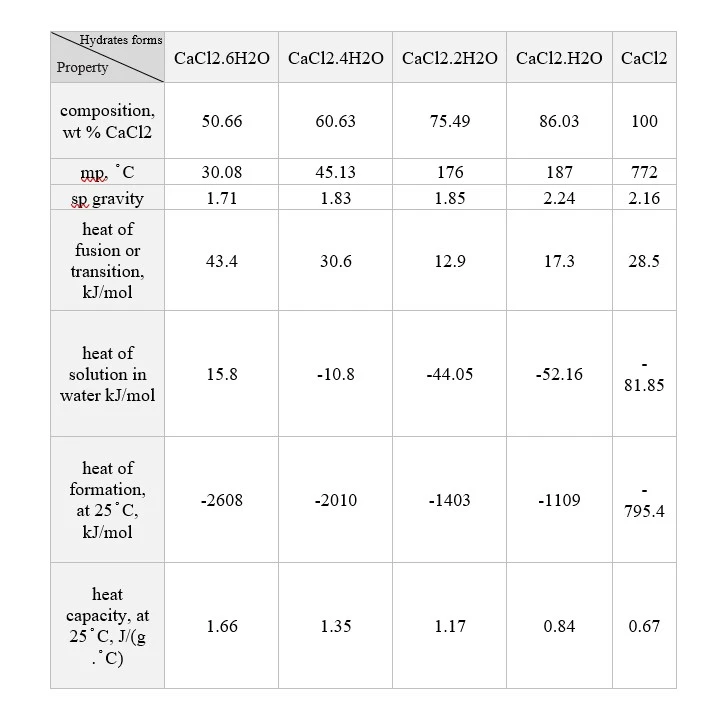 A study on the solubility of calcium chloride hydrates (3) has generated polymonials relating the weight percent of anhydrous salt in a saturated solution to temperature.

The phase relationships among calcium chloride, its hydrates, and a saturated solution are illustrated in the diagram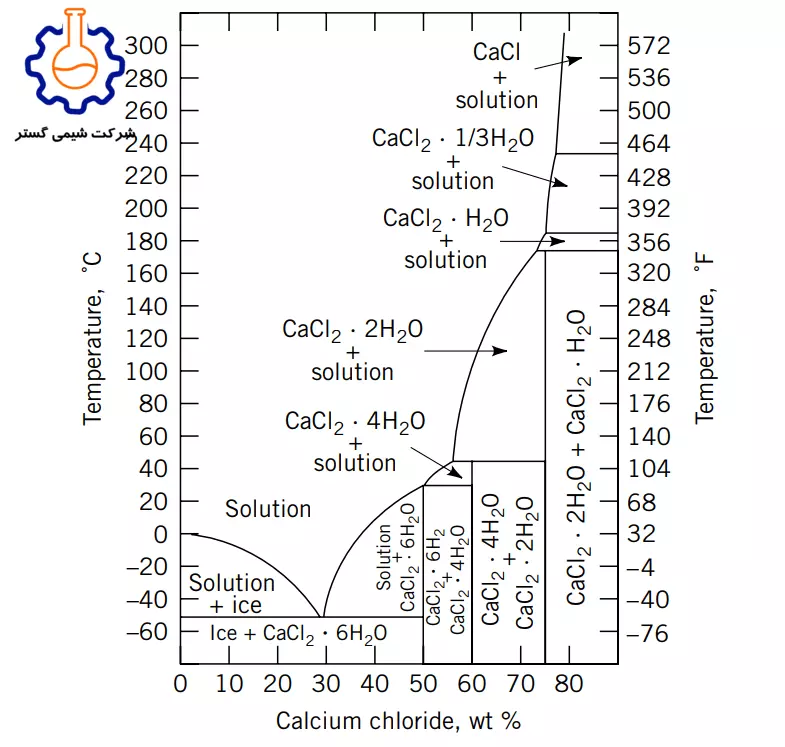 Calcium chloride product standards
There are organizations that set standards for calcium chloride. These standards include the following:
Calcium chloride content (assay), total alkali chlorides (<8.0% as NaCl), total magnesium (<0.5% as magnesium chloride), and other impurities (<1.0% after accounting for sodium, calcium, potassium, and magnesium chlorides, water,
and calcium hydroxide)
Food grade of calcium chloride must meet the following standards:
Assay, not less than 93.0%; arsenic (as As), <3 ppm; fluoride, <0.004%; heavy metals (as Pb), <0.002%; lead, <10 ppm; magnesium and alkali salts, <5%; acid-insoluble material, <0.02%; and no particles of sample greater than 2 mm in any dimension
Conclusion
In this article, an attempt has been made to investigate the calcium chloride product. Chemygostar Aran is known as the producer of this valuable product. Please contact us to inquire about the price and place an order.